When to use
Best as icebreaker at the very beginning. Creates flow and shows people that they can generate lots of ideas
Story
The BrainStation is an ideal icebreaker tool for your workshops. It's great to use this tool to look at the topic from different target perspectives viewpoints. Music helps people to get into creative mode
Tutorial
4 to 9 stations are equipped with a questions. Group splits up evenly to every station. Every station has a different question. A nice selection of music (loud enough to avoid conversations…) stimulates the team. Participants rotate clockwise from station to station.
Instruction facilitator
Make sure that the station cards are ready and are distributed well among the participants. Make sure that people find their stations. Make sure they know that this exercise is about quantity. Remind them to write in a legible way.
Instruction participants
All participants now receive a station card. Everywhere in the room are stations, in clockwise order. Go to the station with your number. When the music starts playing, start answering the question. Everything is allowed, also silly things :-) the more answers, the better. When the music stops, move to the station with the next higher number.
---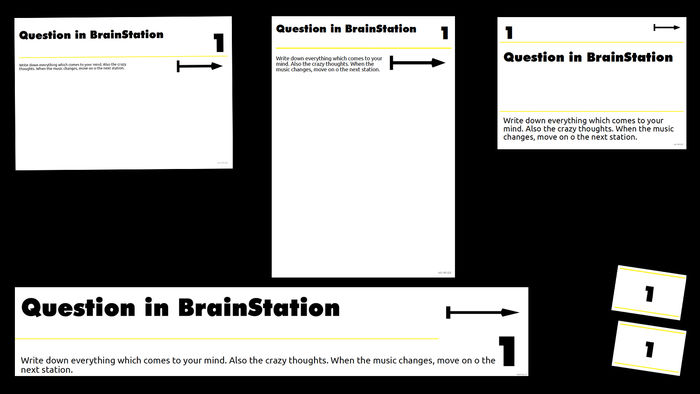 ---
Instruction minute takers
Put all the answers into the Idea Machine Engine, hitting "enter" after each entry. Take a picture of each poster for easier capturing
Instruction runner
Hang up the station posters in clockwise order (form a logical parcours through the space.). Careful with delicate walls, use removable tape and also test with pen. Maybe use additional flipchart as base. Prepare station cards and pens for participants. Hand cards to participants (if there are more than 8 stations indicate 6 and 9). Hand the posters with answers to minute takers in a sorted fashion (all numbers 1, 2, 3 etc together)
Instruction techie
Load playlist to device (no adds please). Check sound. Interact with facilitator for change of sound. Adjust volume to taste of facilitator.
Instruction community
Make sure the participants go to the right station. Help with the rotation, especially from last station to first.
Instruction photographer, videographer
Good chance for mood pics. Try different positions. Details of questions and writers. Take a picture of each poster as well and put it into the folder with the right question number in the content folder